Enthusiasts products. Less $.
We are Asceny, a small company that was built by MK lovers who were exhausted with group buys. Our goal is to create innovative products, and make existing trends in the community widely available for affordable price.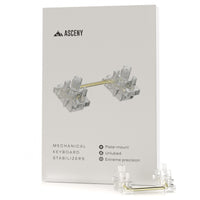 The Asceny plate-mount stabilizers
As keyboard enthusiasts know, there is nothing more embarrassing than a rattly plate-mount spacebar. We are here to help you solve your life's biggest issue, our new plate-mount stabilizers were designed to be just as good as the best PCB mount stabilizers out there. Nothing too crazy, just plate-mount stabilizers that don't suck!
BUY ON AMAZON
Asceny Herocaps
The Herocaps series features three high quality and affordable novelty keys. They come on a keycap displayer with an adjustable stand angle thanks to our incredibly advanced moving keycap puller technology that was developed by the best engineers in the middle east.
BUY ON AMAZON
The Asceny coiled cable
Say good bye to your heat-shrinks. The Asceny coiled cables features stiff and durable plastic injected connectors. Take your setup one step further with a beautiful and flexible 6" double sleeved coiled cable that makes every setup look incredible.
Buy on amazon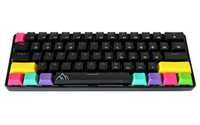 The Asceny one 60% keyboard
With hot-swappable optical PCB, variety of switch options, amazing RGB effects and unlimited room for customization, surely you are off to a good game.
BUY ON AMAZON